I would have gotten to this post yesterday if my roller hockey team hadn't made it to the championship game, which we somehow managed to win. Even if it is a men's rec league, nothing beats winning like we did. After a first round bye, we played the semi-final game at 6:00 and won 10-0, which set up the finals at 8:30. After a lot of back and forth, we came out on top 9-7 with a pair of late goals. Fun stuff...
Anyway, onto today's show and tell. As you can tell from the title, its another addition to my Super Script set. This one again comes from eBay and I will say I paid a bit more than I thought I would have to, but hey stuff happens, right?
Here's a look at my Jan Hlavac Super Script numbered 20/25: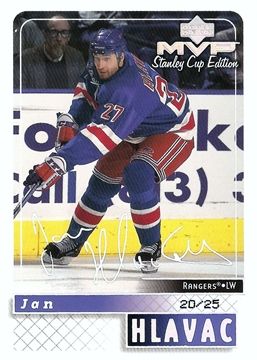 This one brings the set total to 36 out of 220. Another plus is that this adds another team to the mix of Super Scripts. Maybe that should be a goal for this set, to get at least one of every team before trying to get all 220 of them. What do you guys think?