Time to show off a couple more things I was able to find at the Gibraltar show last weekend. I was hoping to maybe find a few Silver Scripts to knock off the wantlist, but that didn't happen. I did however end up coming across two cards I did still need for the insert portion of my MVP SC Edition master set project.
The first comes from the Game Used Souvenirs insert set. It's a game used stick card of Maxime Ouellet pictured with Quebec of the CHL. This is the third stick card I've been able to get from the set, the other two being Kris Beech and Milan Kraft.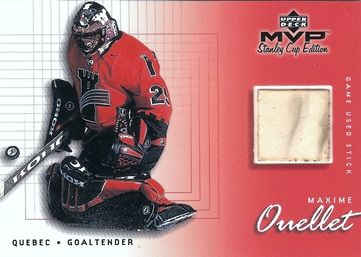 The other card was this Brendan Shanahan from the Second Season Snipers insert set. I was surprised to find this one in a dime box knowing Shanny is pictured as a Red Wing and the show was in metro Detroit, but hey I'll take it. This gives me 6/12 for the set.
While I was hoping to do a bit more crossing off of the want list for this set at the show, I will take two cards over nothing at all. By my count, I now have 485 out of a possible 1014 cards for the master set I'm working on. That's just under the 50% mark.