It's been a while now since I actually posted an update for the Silver Script portion of my MVP Stanley Cup Edition master set project, so when I opened the bubble envelope that came in the mail today, this was the first thing I wanted to do.
Today I've got three cards to add to the set from a recent, well relatively recent, trade over on Sports Card Forum. I was getting kind of nervous that the cards were either never sent or lost in the mail as the trade was posted nearly a month ago now.
The first of the three was this one featuring Ron Tugnutt.
Then there was this one featuring former Red Wing Mike Vernon.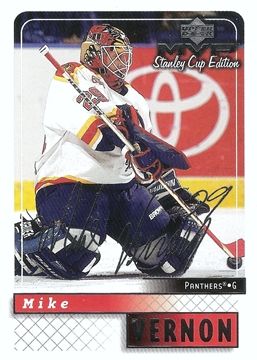 Lastly there was this one featuring former Bruin Joe Thornton.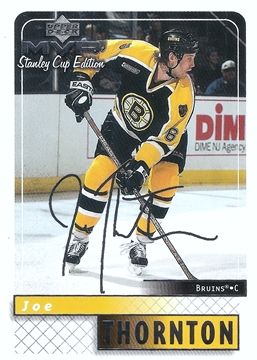 Of the three, the Thornton was probably the most significant. Why? Because it completed another 4-card rainbow for me (Base, Silver, Gold, and Super).
Click here
to see the thread I started over on SCF for all of the rainbows I have for this set.
There was also a fourth card included in the trade, which will most likely be in my next post, so stay tuned for that. I'll give you a hint, it's very similar to one of the cards above.