Nothing better than getting to sleep in on a Saturday morning after five long days of work, am I right? Anyway, before I dive into re-painting the apartment today, I thought I would squeeze in a post showing off the other half of the package deal I mentioned in my last post.
Normally with this set, it's difficult to come across even partial rainbows of a particular player. The two Sedin rainbows I got recently were an anomaly, so other than that whenever I see a Gold and a Super Script together, I try to make sure I can land both at the same time. This time it worked, although it cost me a little more than I originally planned.
Here's a look at the Markus Naslund Super Script numbered 10/25.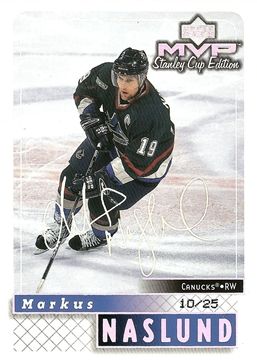 This is the 31st Super Script I've been able to pick up for the set. I know I still have an eternally long way to go with this set, but so far it's the pride of my collection and I don't plan on stopping anytime soon. After all, it's not a race with these kind of projects, right?