Gallimaufry
[
gal-

uh

-

maw

-free
]
-
A
hodgepodge;
jumble;
confused
medley.
Time for ten new cards for my favorite side project. There is a nice mix of mismatched masks and equipment in this group. Some of them are making their second appearance in the project and others I haven't even seen before.
The first one is from 2000-01 BAP Memorabilia and shows Mika Noronen playing for the Buffalo Sabres. He is pictured in the Sabres home white uniform with matching glove and blocker, although there is a clear mismatch between the bright blue and white pads and the rest of the equipment. This is from his time with the Rochester Americans.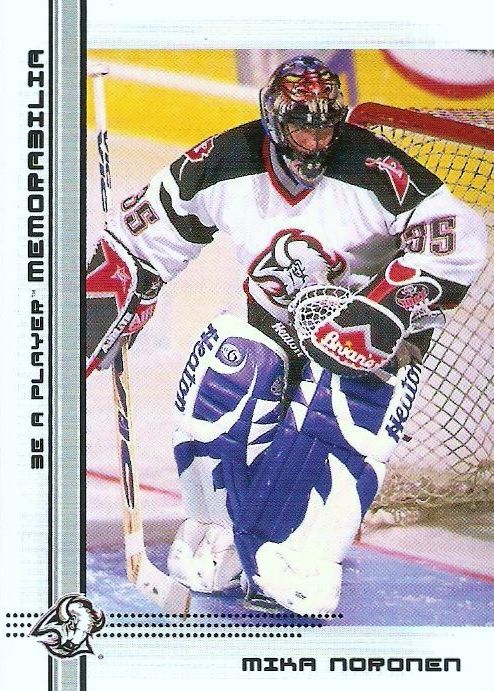 This one from 2000-01 Parkhurst also shows Noronen with the Sabres along with the exact same equipment setup. I kind of like having multiple cards of the same setup like this. It's a good way to have multiple looks at the same thing, even if it does seem to get repetitive.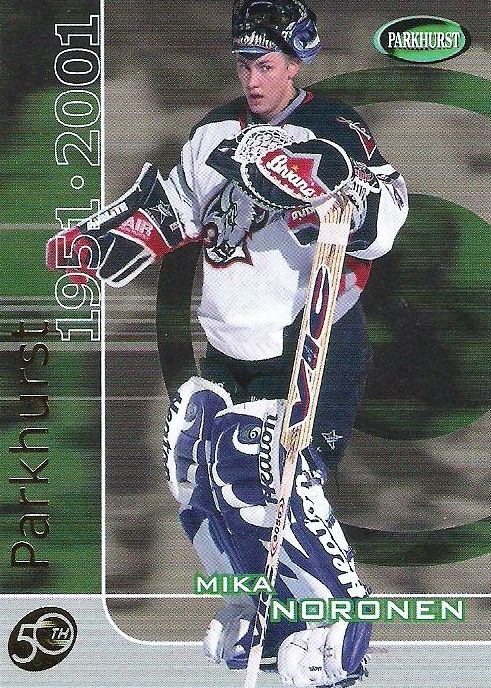 The next one takes us back a little ways to 1994-95 Leaf, which shows Ron Hextall in a home white Philadelphia Flyers jersey. He's also wearing the "I just got traded" plain white mask along with blue and orange gear from this time with the New York Islanders.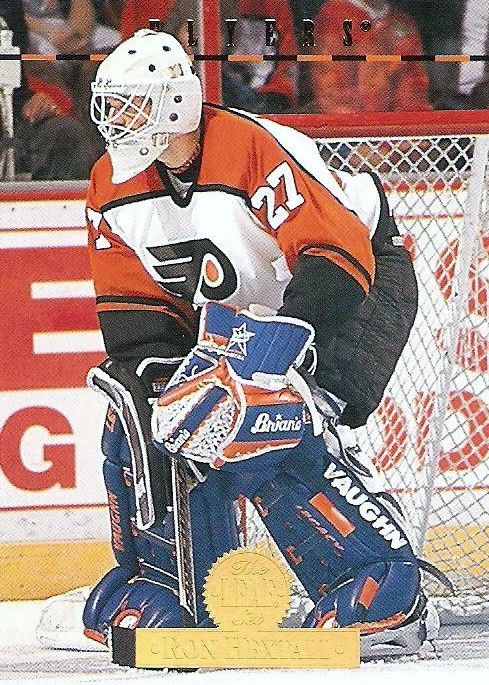 Just like the Noronen, I've got another card that has a different look at the same mismatch in equipment for Hextall. This one is from 1994-95 Pinnacle and simply has a closer look at his mask and bright blue pads. It does look like he's got a black blocker, I wonder why that's the only piece up to date at that point in time.
Now it's time for one that doesn't have a second copy to go with it. This one is from 1995-96 Pinnacle Summit and features Jocelyn Thibault with the Montreal Canadiens. He is shown in a home white jersey with black and dark blue equipment from his time in Colorado. The best part is the Avalanche mask with Canadiens stickers plastered all over it.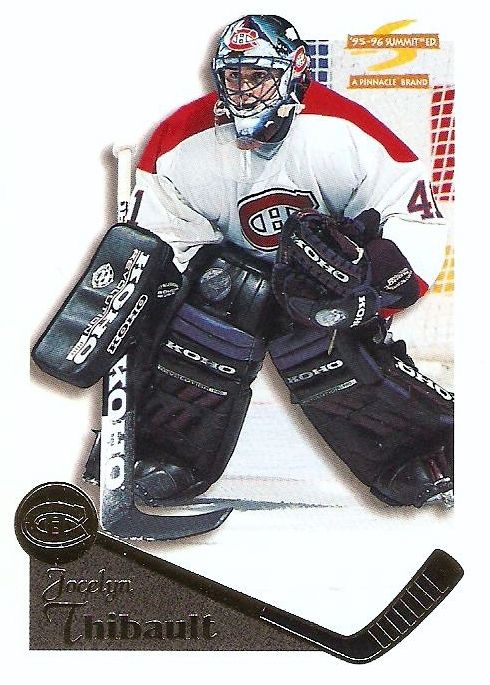 Here's another example of a mismatch that's already been featured as part of this project. This one from 1996-97 Score shows Jose Theodore with the Montreal Canadiens. He is shown in the red road jersey with clearly mismatching black and grey pads and mask. These are from his time with the Hull Olympiques.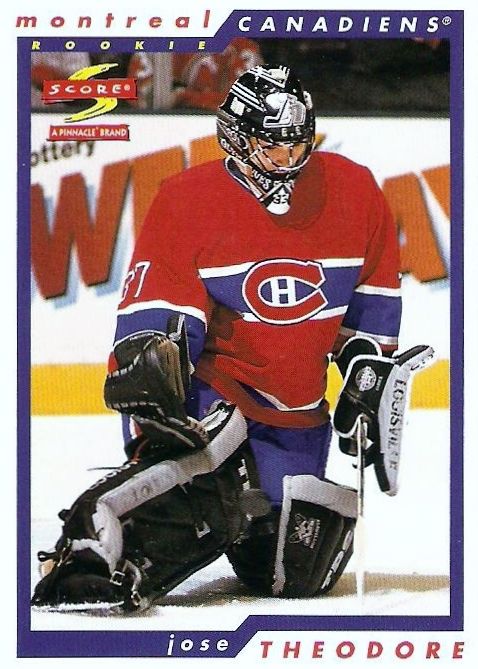 This one is again another example of one that's been featured here before. It's from 1997-98 Donruss and shows Jean-Sebastien Giguere with the Hartford Whalers. He is shown in the road blue jersey with red, white and green equipment from his time with
Halifax.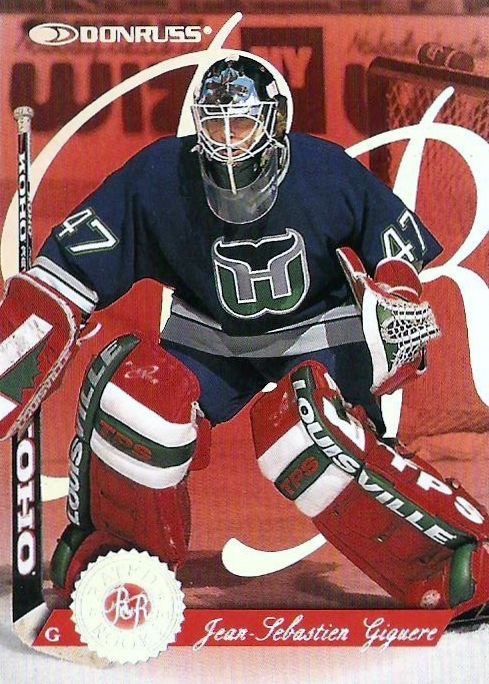 Next is another one showing the same mismatch. It comes from
1997-98 Pinnacle Inside
. These were the first hockey cards to come sealed in a can. I remember getting a few of these cans as a kid and I thought it was the coolest thing.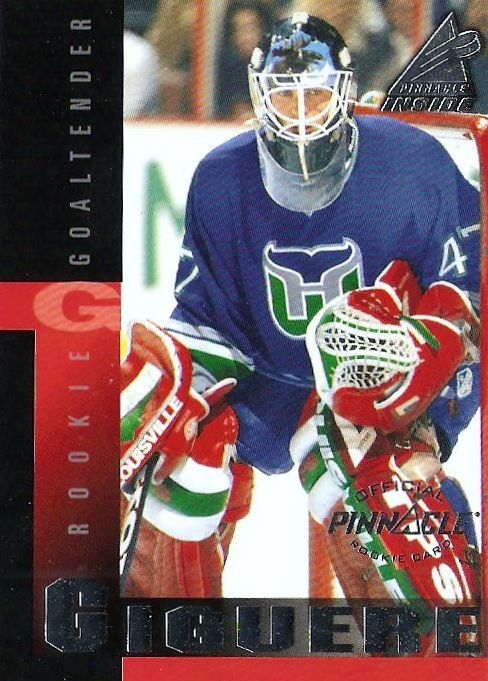 This one from 1994-95 Parkhurst is new to the project and features Jon Casey of the St. Louis Blues. He is shown here in the Blues dark away jersey with all black equipment, a pretty nice contrast with the blue and yellow. This is from his time with the Boston Bruins.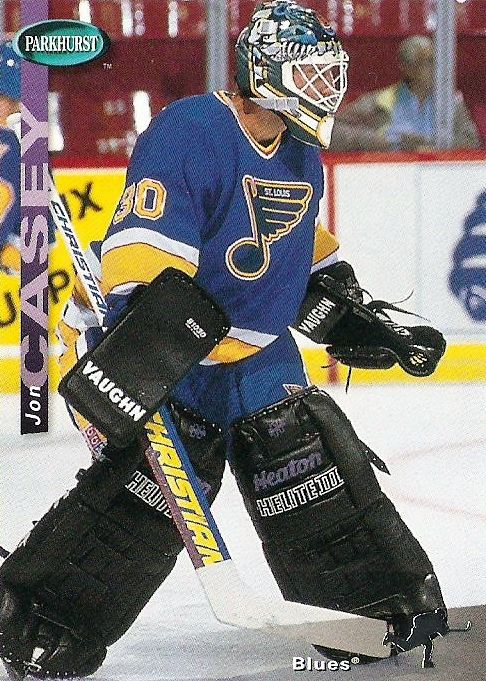 The last one for this post is another featuring Jon Casey with the same mismatch, this time from 1994-95 Upper Deck. Not sure why he is still wearing all black with the Blues as he would've had all off-season to get new Blues colored gear.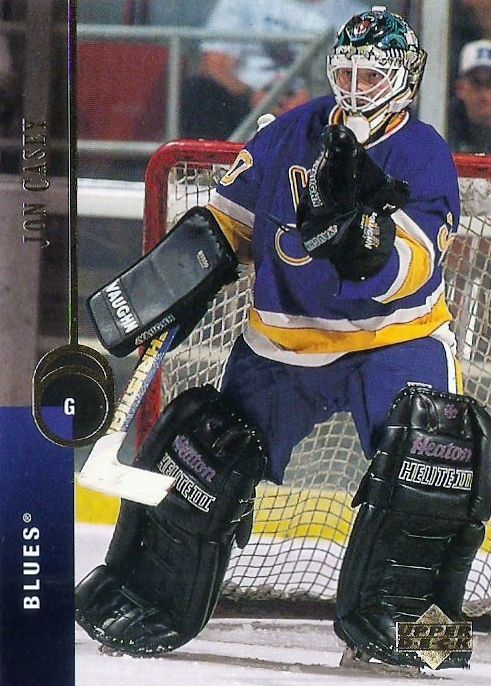 So there you have it, ten more cards of goalies and their mismatched gear. I wonder how far this project can go, especially considering how many candidates I was able to find in just a few minutes on my lunch break the other day. Who knows, maybe the 200 mark will get here quicker than I thought.
Goaltending Gallimaufry Count: 129