When it comes to my current collection, this is probably the only project where I don't mind spending a bit more than I want to every now and then. That's simply because of how rare these things are on the secondary market. They're almost impossible to find these days. I mean look how long it's taken me just to get even near 40 of them.
Sometimes I get lucky and find them for just a few bucks or even as low as $1, but there have been a few occasions where the bidding got a bit intense and ended considerably higher. A good example was the Brian Boucher that set me back almost $30.
The latest one, this Nikolai Antropov shown below, ended up costing me a lot more than I thought it would, just like the Boucher. The winning bid ended up being $28, but hey when I think this is my only shot at this card ever, I had to go for it.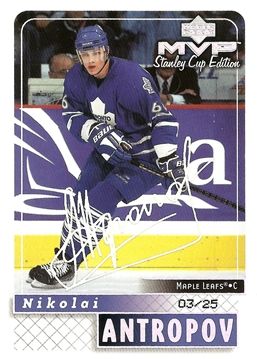 Not really sure if this card warrants that kind of price, but I guess its really a crapshoot when it comes to sets like this, am I right? I'm sure I was either up against another set builder or an Antropov collector for it to get this high. I'm just glad I came away with it.
This one brings the Super Script total to 38 out of 220. That's just over 17% of the entire set. On the plus side, this helps keep up the pace on this set for 2012. This will be the 16th of the year, which is better than one per month so far.