It's been a while since I've been able to get another one of these into the queue, but now that I have, it feels nice to change things up a bit again as far as content goes on here.
When it comes to collecting and hockey in general, I have one favorite team and that will always be the Detroit Red Wings. However, when it comes to jerseys, while I have plenty from the Wings, I have several other favorite teams, one of which is the Atlanta Thrashers. When the franchise was established, I immediately loved the new logo that came with the team. Once I saw their original jerseys for the first time, I knew I have a new favorite.
Fast forward a couple of years and the Thrashers jumped on the third jersey bandwagon and came up with their own. When the new third jersey was unveiled, I loved it. Since then I had always wanted one and was lucky enough to find one on eBay for $25 delivered about a month ago. Bought it as a birthday present to myself.
Jersey Info
Team: Atlanta Thrashers
Player: None
Number: N/A
Manufacturer: Koho
Size: M
Acquired from: eBay
The first thing I always notice about this one is the lack of symmetry, something that is not all that common with NHL jerseys. I like that, because it sets this apart from the rest. It's got the original Thrashers crest on the front of the jersey set atop a nice powder blue background. Another thing I love about it is the lace up collar.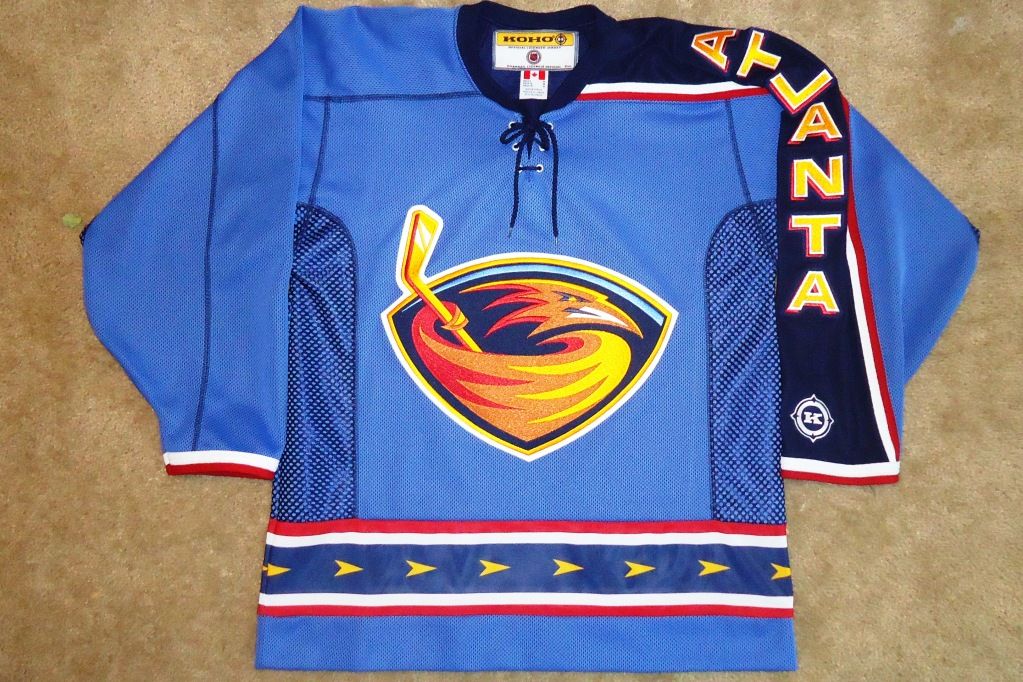 Since this is not a player specific jersey, the back is a bit more boring than usual. Despite that, there are still a couple of cool features on this one. First, I love the addition of the mesh under the arms on both sided. Then there is the cool way in which they used the darker blue thread outlining the different sections of material. Finally, as with the other Thrashers jerseys, I love the trim around the waist area with the continuous band of yellow arrows inside the white/maroon trim.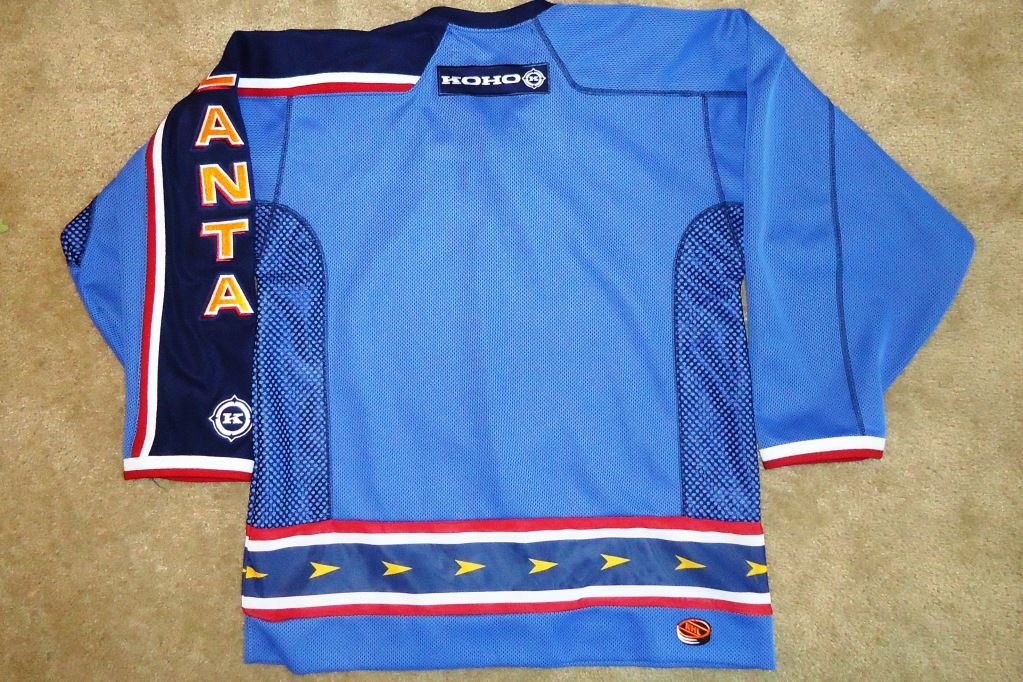 Time to show off a card that features one of my favorite jerseys of all time. Since this one is not player specific, it was pretty easy to just look for any Thrashers card from the right time period. I ended up finding this card featuring former Red Wing and Thrasher Marian Hossa.
This is actually only one of three Thrashers jerseys I bought on eBay in the last two months. I'll get to the other two next in this series, hopefully. Not sure when that will be though. Too bad Reebok had to take over the NHL and completely ruin everything I loved about this and the other Thrashers jerseys. Anyone else feel that way about them or any other team?