Gallimaufry
[
gal-

uh

-

maw

-free
]
-
A
hodgepodge;
jumble;
confused
medley.
I was hoping to get a few things in the mail to show off here yesterday, but none of them showed up, so I today I've got another new trio of cards for this project. They all have one thing in common, and that would be the only real mismatch is their mask.
The first one features former Red Wings goaltender Tim Cheveldae pictured with the real Winnipeg Jets during the mid 90's. He was traded from Detroit in 1993-94 with Chris Osgood taking over as the number one goalie. You can see here that he played in his Wings mask with the Jets for a while. A pretty obvious mismatch, right?
The next one is a bit newer and features former Avalanche goaltender David Aebischer. He is pictured here with the Montreal Canadiens after he was swapped for Jose Theodore just a day before the trade deadline in 2005-06. It looks like the last piece of equipment to make the adjustment was his mask, as the rest are all in Habs colors.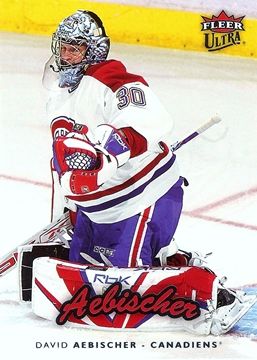 Then there is this one from all the way back in 1992. It features former goaltender Ron Tugnutt shown with the Edmonton Oilers. While his plain white pads don't tell us much, his red white and blue mask is a different story. That's because it's from his time with the Quebec Nordiques.
Click here
to see this mask in action with Quebec.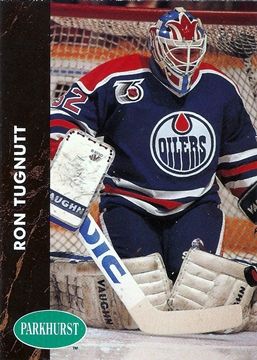 That's it for now. I am hoping that I will get a couple of bubble mailers tomorrow that will give me a few cool thins to show off. If not, maybe I will jump back into this series as I do have a nice little stack of great candidates waiting to be scanned.
Goaltending Gallimaufry Count: 103