Gallimaufry
[
gal-

uh

-

maw

-free
]
-
A
hodgepodge;
jumble;
confused
medley.
As was the case with my previous trips to the Gibraltar show, I managed to find a few nice pieces for this project. I found eight new cards from several different tables at the show. The cheapest was $0.25 and the most expensive was $1.00, so not all that expensive.
The first one I found was this Johan Hedberg from the 2001-02 MVP Masked Men set. It's similar to the other Hedberg's I have in that it features his original blue "Moose" mask clashing with the black, white, and yellow of the Penguins uniforms.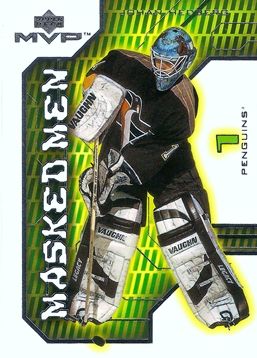 The next one is this Al Montoya from the Panini All Goalies set. It's got the same mismatch as the last Montoya card I grabbed for this project. The mask is the obvious one, but if you look close you can see the maroon in his blocker.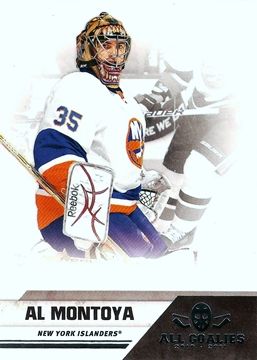 Then there was this one featuring former Atlanta Thrashers goaltender Kari Lehtonen. It's from 2003-04 Topps and is one of his rookie cards, which is stamped right on the card. While his pads match, you can see the Chicago Wolves logo on the side of his mask, which is more than enough for this one to make the cut.
The next one is a guy I had never heard of before seeing this card. It features Martin Houle of the Philadelphia Flyers. While he has the orange and black going with his equipment, you can clearly see the clash between the Phantoms purple and the Flyer colors.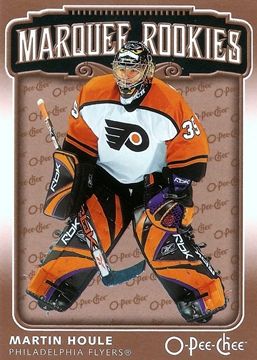 Then there was this one featuring Steve Mason of the Columbus Blue Jackets. It's one of his many rookie cards, specifically from 2008-09 MVP. It's got an obvious mismatch between his green mask and the red, white and blue of the Blue Jackets uniforms.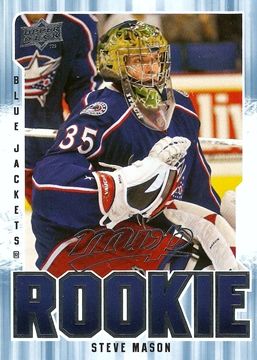 Here we have another repeat offender in Craig Anderson of the Ottawa Senators. He is pictured here playing for the Sens with a hint of Colorado Avalanche in there. Even though he has an updated mask, the rest of his equipment still has the Avs colors.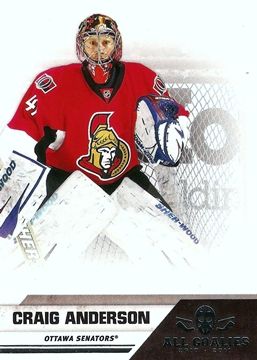 Next is another repeat offender in Rostislav Stana of the Washington Capitals. Here he is once again pictured with black, white, and red equipment from his time with the Portland Pirates. Before today, I had never seen a card from this set, so that's kind of neat.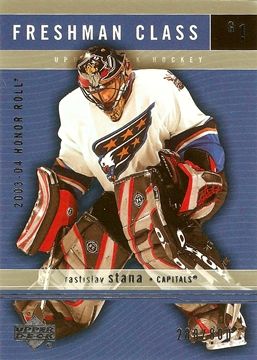 Last but not least we have another Jim Carey for the collection. He is pictured here in the same style Capitals uniform as Stana, but with equipment matching the old colors of the Caps and Pirates, which are of course the red and white.
That's it for another productive day at the card show for this project. On the plus side, I can now say that I have reached the 100 mark for this project. I'm actually kind of surprised how quickly I got here and how many of these cards are actually out there.
Goaltending Gallimaufry Count: 100