Gallimaufry
[
gal-

uh

-

maw

-free
]
-
A
hodgepodge;
jumble;
confused
medley.
Now that I've got myself a little free time again, I thought I would get to another one of these posts. This is the third of five posts I have planned for the Gallimaufry stuff I got from Brett over at My Hockey Card Obsession. Now let's take a look at the next ten cards.
This first one goes way back to 1991-92 Upper Deck and shows Bill Ranford playing with Team Canada in the Canada Cup. He is pictured in Canada's red jersey along with all of his white, orange, and blue Edmonton Oilers gear. This one is similar to the Trevor Kidd Team Canada card I posted a while back, click here to see it.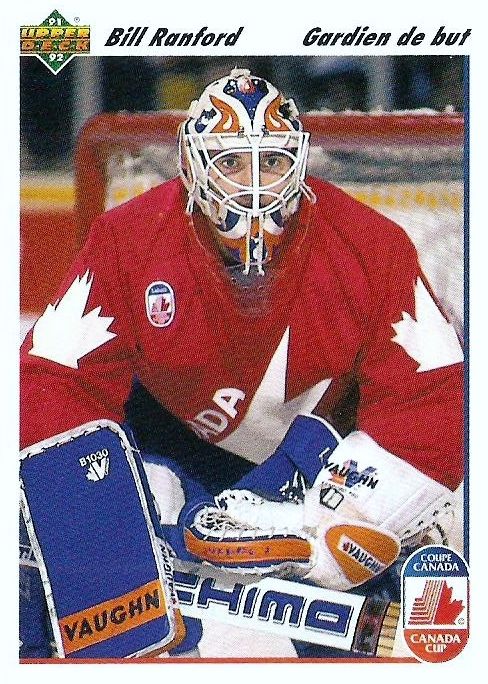 The next one is from 2003-04 Upper Deck Honor Roll and shows Jamie Storr playing for the Carolina Hurricanes. He is pictured in their road white jersey with matching pads and mask. The mismatch though is from his glove and blocker, which both still have purple accents from his time with the Los Angeles Kings.
This one is from 1994-95 Flair and shows Guy Hebert playing for the Anaheim Mighty Ducks. He is shown in the road jersey, but has reddish looking pads, glove and blocker. For whatever reason, I cannot seem to figure out why this was the case. He was picked up in the expansion draft from St Louis, where I can't find a picture of him with these pads, so I have no idea where they came from. Any ideas?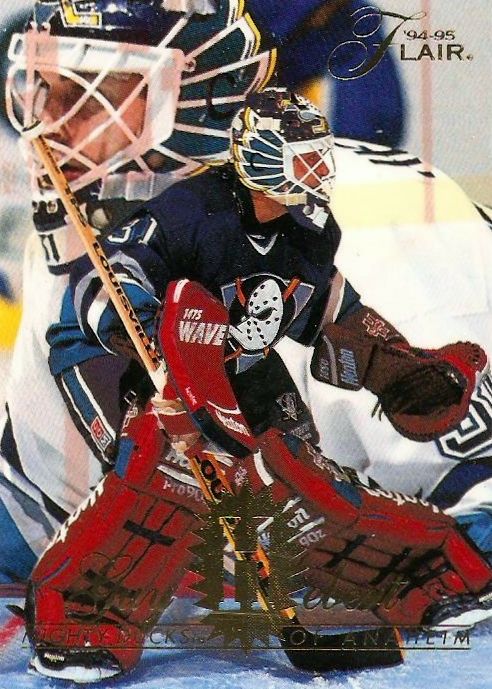 The next one also features Guy Hebert, this time from 2001-02 Pacific showing him with the New York Rangers. He is shown in their road blue jersey with a plain blue mask, but still has his Mighty Ducks colored leg pads, glove and blocker. He was claimed off waivers midway through the season by the Rangers, so it makes sense that he wouldn't have changed all his pads for just a few games in New York.
This one is from 1996-97 Pinnacle and shows Curtis Joseph with the Edmonton Oilers. He is shown in their dark blue and orange road jerseys, but appears to be wearing black pads along with a light color blue on his catching glove. This is another case where I'm not sure what the mismatch is all about. Any ideas on where this equipment would've come from?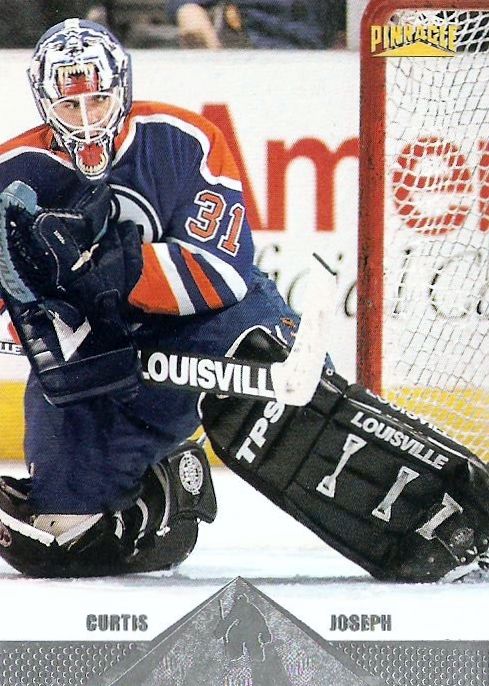 The next one is from 1993-94 Fleer Ultra and features Jim Hrivak of the St. Louis Blues. He is shown in their dark road jerseys with matching pads and gloves. The only mismatch is his mask that was from his time with the Washington Capitals, as evident by the red, white and blue as well as the eagle.
Click here
to see this same mismatch in a previous post on here.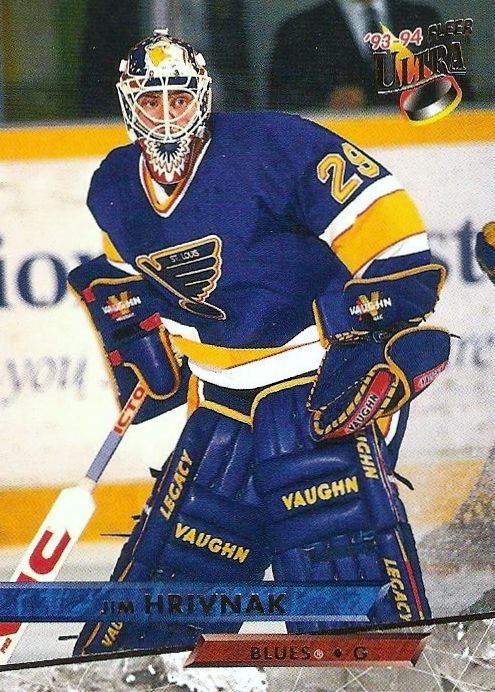 This one is from 2001-02 SPx and shows Felix Potvin playing for the Los Angeles Kings. He is shown in their black road jerseys with pads and a mask that feature a touch of red, which is nowhere to be found in the Kings uniform. A little searching online shows that the red was from his time with the Vancouver Canucks.
Click here
to see this gear with the Canucks.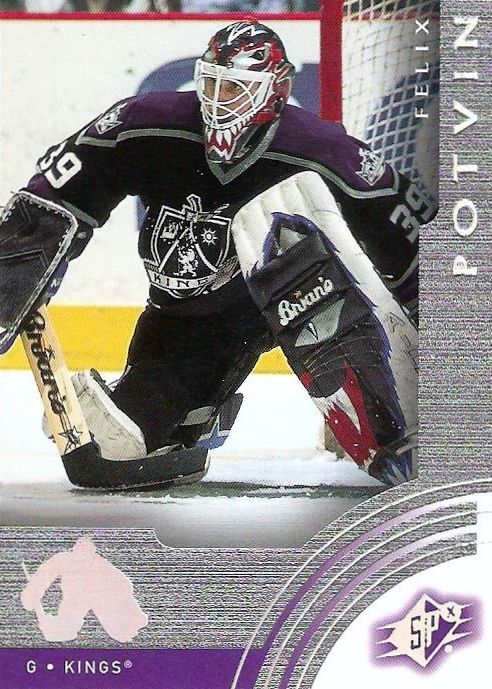 The next one is from 1995-96 Bowman and shows Eric Fichaud playing with the New York Islanders. He is shown in the Islanders infamous fisherman jersey, which I actually happen to like. The obvious mismatch is the light blue and white dolphin/whale on the side of his mask. This is from his time with the
Chicoutimi Saguenéens
of the QMJHL.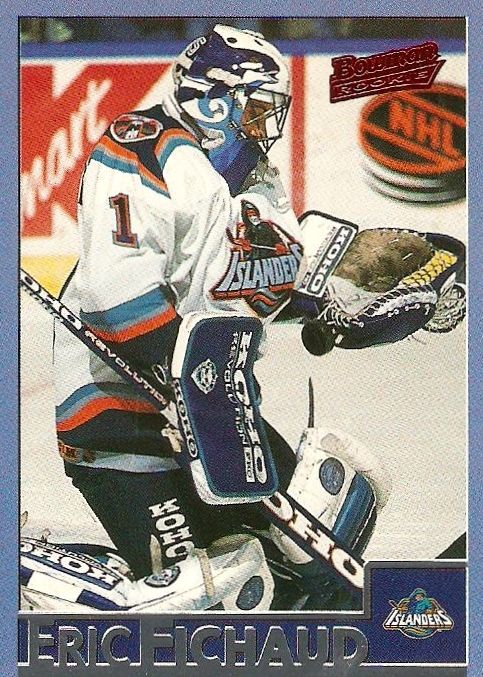 This one from 1994-95 Leaf also features Eric Fichaud, this time playing for the Toronto Maple Leafs where he was originally drafted. Once again, he is wearing the same mask with the dolphin/whale mask, which does not go well at all with the blue and white of the Leafs uniforms. The black on his pads is also a good mismatch.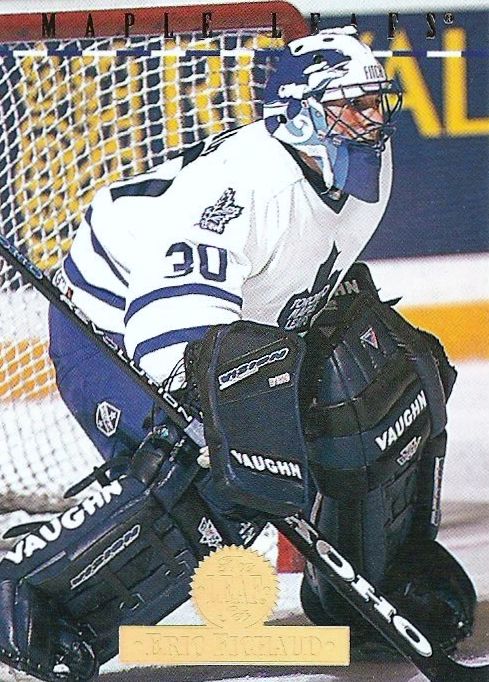 The last one, a rare sideways card for the project, is from 1997-98 Omega and shows Sean Burke playing for the Vancouver Canucks. He is pictured in the home jersey, but there is a good amount of red on his pads and an obvious Hurricanes themed mask. This is because he was traded from Carolina in January of 1998 in a deal that sent Kirk McLean the other way.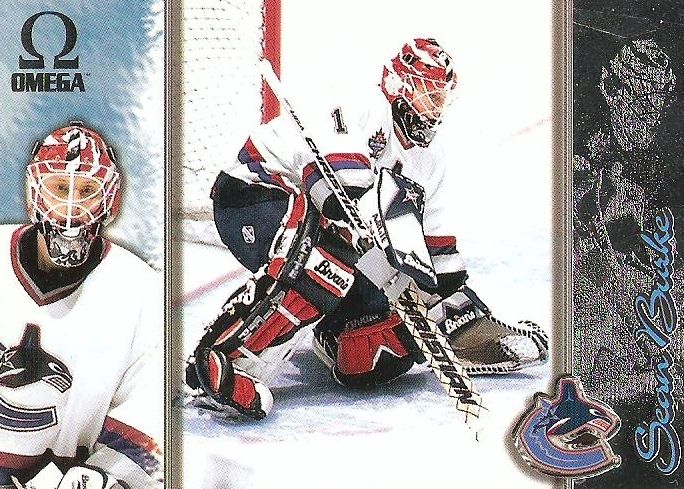 That's it for now. I like doing these in 10 card increments as its just enough to get a great variety, but not so much that it gets boring. Now I've just got two more of these lined up then I'll need to get out to some card shows to find some more good stuff.
Goaltending Gallimaufry Count: 139