Gallimaufry
[
gal-

uh

-

maw

-free
]
-
A
hodgepodge;
jumble;
confused
medley.
Time for another trade related show and tell post for this series. Recently I've been making more and more trades on Sports Card Forum (SCF) and one of them happened to land me a couple of nice pieces for the project, especially since they are both of goalies that have not been heavily featured here yet.
The first was this Travis Scott Precious Gems rookie card from 2000-01 Black Diamond. As you can see, there is a pretty obvious mismatch between the red on his pads and the purple of the Kings uniforms. This is because
he played for the Lowell Lock Monsters

.
Click here
to see an image of him sporting these same pads and mask with Lowell
.
The second was this Steve Mason rookie card from 2008-09 Fleer Ultra. Mason is pictured in his Columbus uniform with matching equipment, except of course for the green, black, and yellow mask he is wearing. That one comes from his time with the London Knights of the OHL. Click here to see Mason sporting this mask with the matching green, white and gold of the Knights uniforms.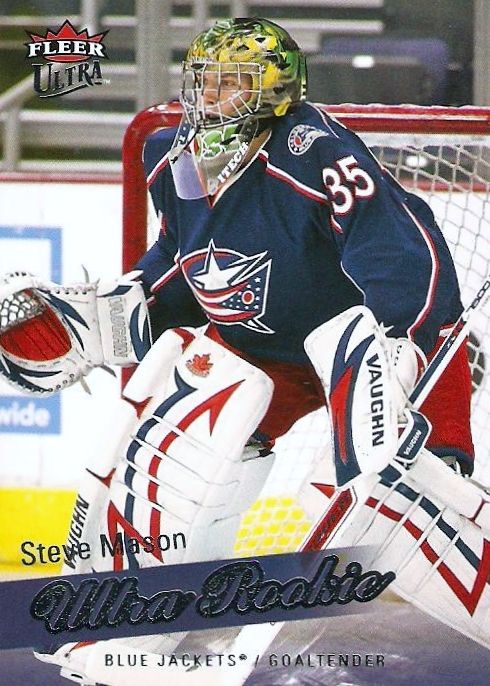 I like to think that this project has found a home for two cards that not many people would've been interested in, especially the Travis Scott. That's what I love about projects like these as they make you get out and look for cards that you wouldn't usually think twice about. In this case, I found them on a trade list and got them in exchange for a few cards I had no use for, so its a win win situation and you can't beat that.
Goaltending Gallimaufry Count: 109