Time to show the last of what I got at the Gibraltar show last weekend. These are all the inserts and parallels I was able to grab for my Dominik Hasek collection. There is some cool stuff in here spanning from his time with Chicago to his last stint with the Red Wings.
The first one is my favorite and cost me the most of any single card at $1. It's an Epix Play Orange from 1997-98 Pinnacle. These cards focus on individual plays and this one specifically talks about a save that Hasek made on Mario Lemieux.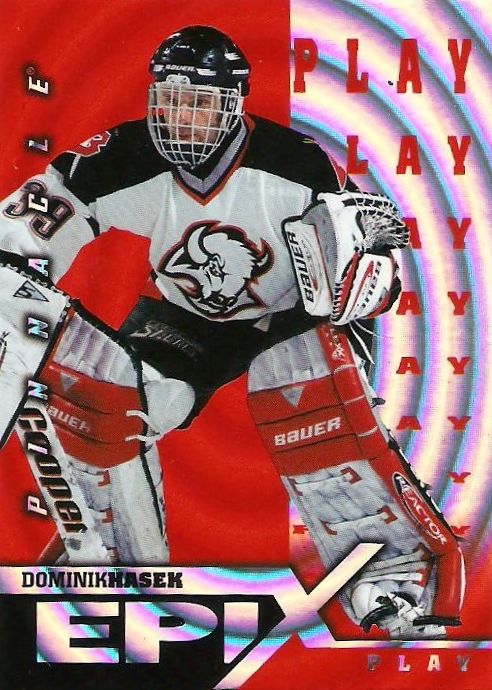 My second favorite was this 1995-96 Summit Ice parallel. This card really popped out when I was sorting through the box, so I just had to have it.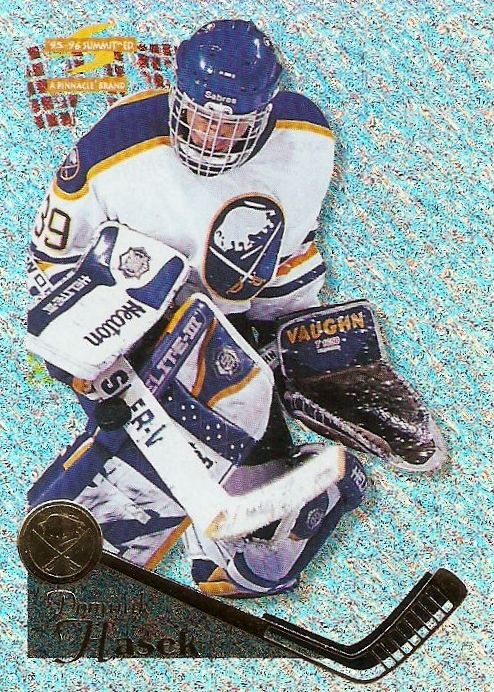 This next one was kind of neat. It's from 1996-97 Upper Deck, specifically the Generation Next insert set, and is two-sided featuring Hasek's countryman Roman Turek.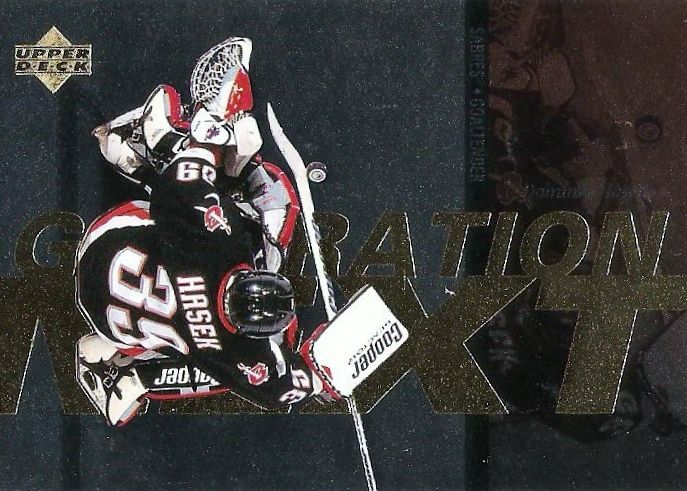 The next one is a bit newer, coming from 2008-08 Victory. While these Stars of the Game inserts are usually pretty lame, I do kind of like the design of this one. It also helps that you get a nice, centered, full body image of Hasek without too much to distract from it.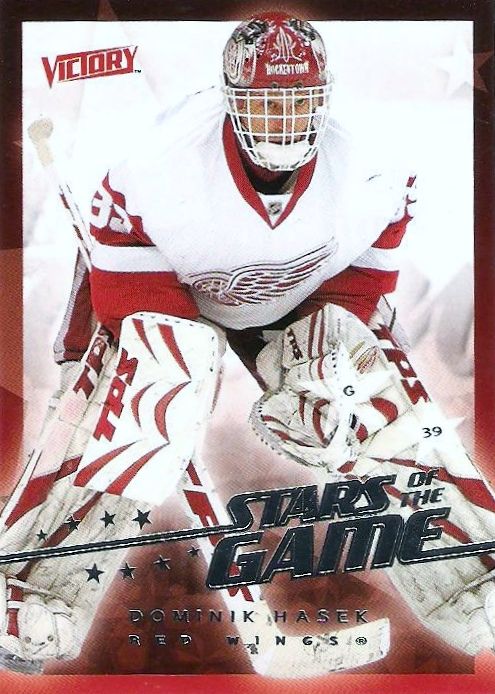 Back to the older side of things with this NHL Icons insert from 1997-98 SP Authentic. I keep seeing online that there are regular and embossed versions of this card and I cannot tell which is which, anyone know anything about these?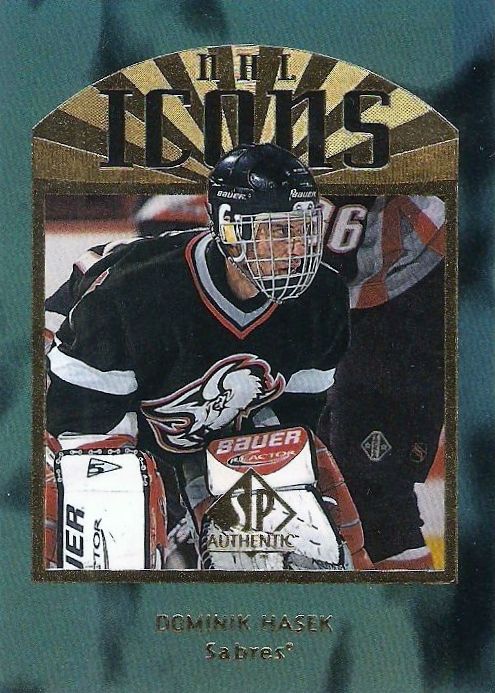 Here's another cool goalie themed insert set from the mid-90's. This one is from the 1994-95 Fleer Netminders insert set. Its got a nice horizontal action shot of Hasek with the background washed out and covered in the word netminder.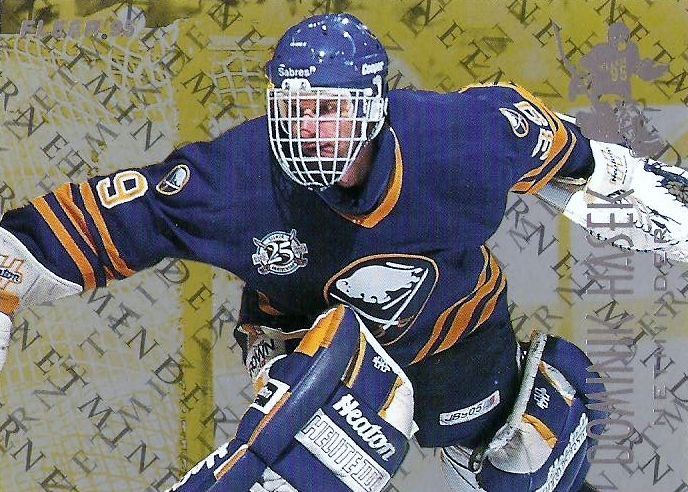 This next one was another one of my favorites. It comes from 1996-97 Leaf Preferred Steel insert set. The coolest part about this set is that the cards are actually made of metal. While I left the protective cover on to scan this card, I ultimately decided to take it off.
Here we've got another goalie themed insert set, this time from the 1994-95 Leaf Crease Patrol Set. Its really nothing more than a horizontal base card with some extra text added, but it's still another one I'm glad to cross off the want list.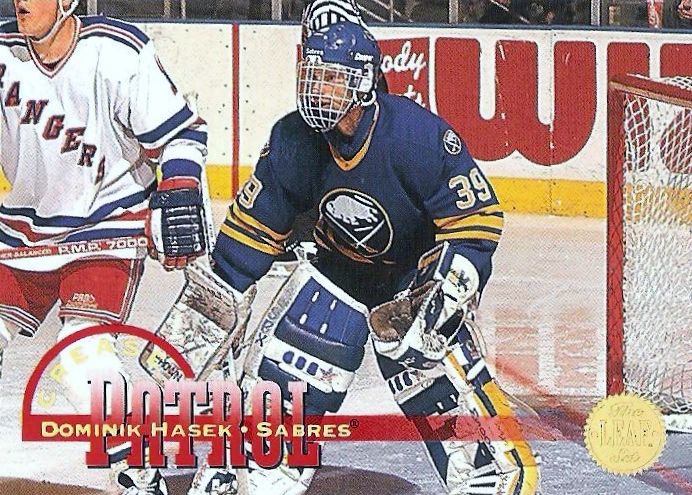 This next one comes from 1996-97 Upper Deck. That year they had this set called Superstar Showdown where there were two die-cut cards that would fit together to form a Superstar Showdown. Not sure who the other card is for Hasek, anyone else know?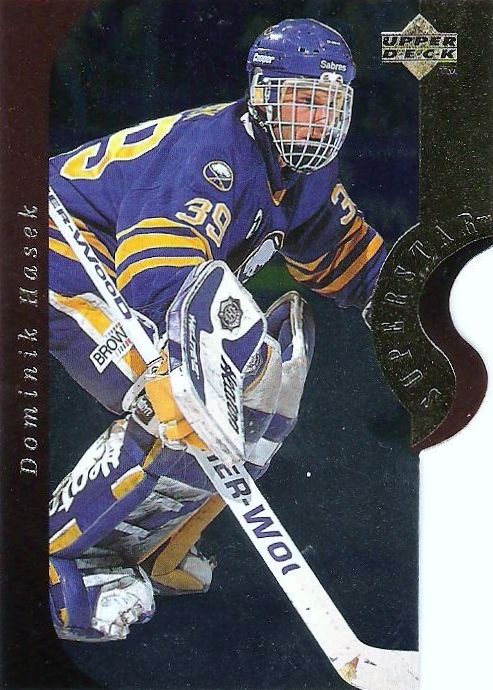 The next one is actually a parallel version of the base set from 1994-95 Topps Premier. According to COMC, these are listed as "Special Effects" versions of the card, so in my book that goes with any other base set parallel.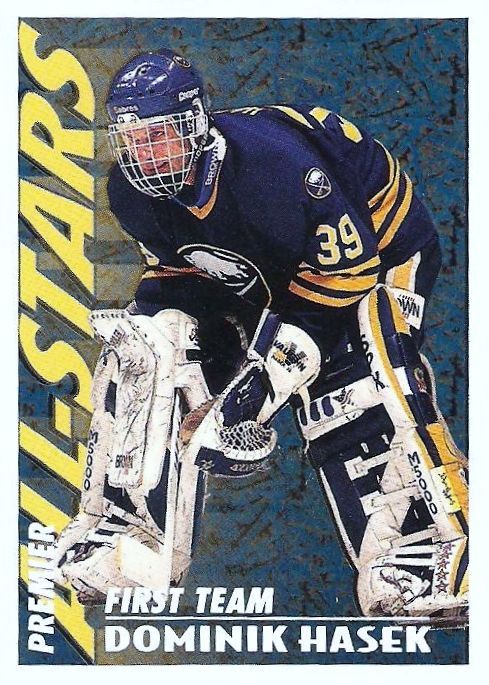 Here's another Special Effects from the same set, only this time the card is part of the goals against average leaders subset. It's really hard to tell from the scans, but these cards do in fact have a bit of a rainbow chipped ice look to them in the right light.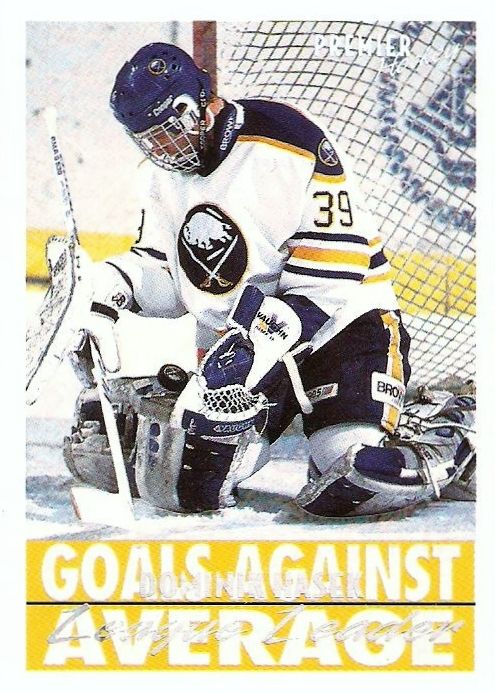 One more from this set, this time part of the save percentage leaders. At least with these they decided to use different pictures for each of the three different cards.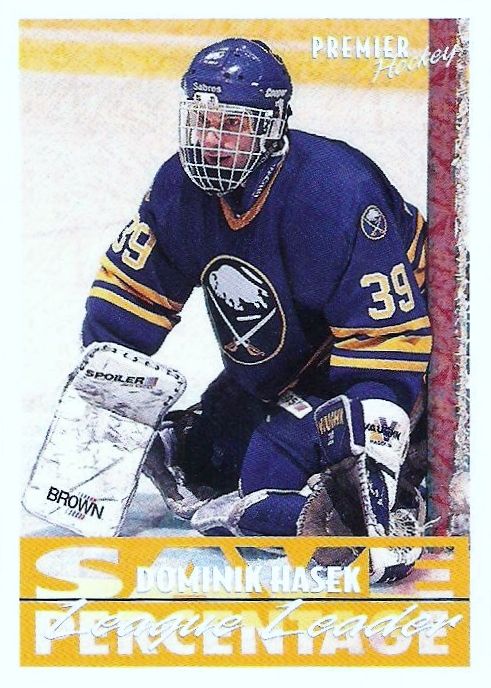 The last one comes from Hasek's days with the Blackhawks. It's from the 1992-93 Upper Deck All-Rookie team insert set and features a photo shoot of Hasek wearing an All-Rookie team jersey with his Blackhawks goalie gear.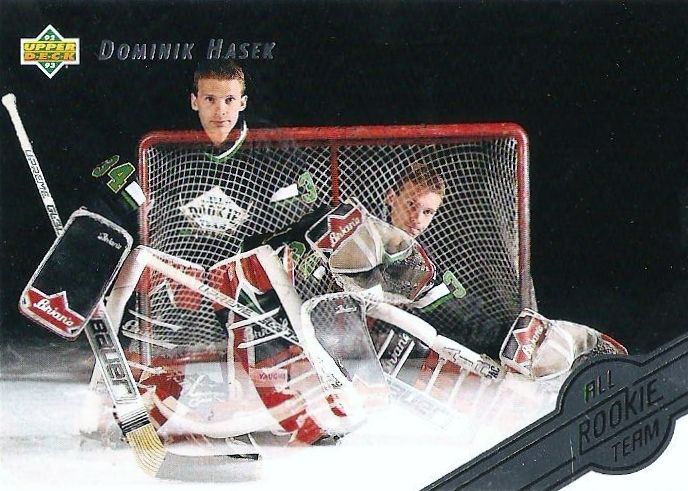 That's it for my Gibraltar show pickups. All in all I would say I did pretty good for spending just $12 on cards. I got a nice mix of things for my various PC projects. Now its off to get ready for two roller hockey games later this afternoon, one of which I may be playing goalie in. We'll see how that goes...